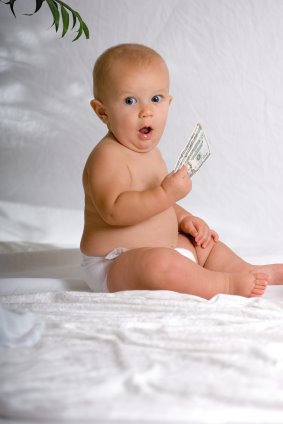 Having a baby is truly amazing! As you enter this new phase in your life, there will be a lot of changes, especially for first-time parents. And one of those big CHANGES you can expect is the
part where you MANAGE your FINANCES. As the baby grows old, costs and expenses are getting above the ceiling if you don't get to know and learn the smart ways of budgeting baby expenses.
Raising a child – and by all means in a good way like you wanted the BEST of everything you could offer – is one of the  BIG RESPONSIBILITIES of parents. I know for a fact that we have our own ways of settling the finances and talking the $$$$ out. But I want to share with you how my husband and I manage it and what we are doing in facing up to the CHALLENGES ahead.
Check your health care provider about your employee benefits program.
I actually stopped working early when I was at 32 weeks due to my pregnancy complications condition. So, what I did is I checked with my employer's health insurance if I am covered with Disability Benefits. I don't want to say it, fortunately, but yes, I am covered with short-term disability maximum of 6 weeks. It's like I'm still getting paid by the insurance half of my total monthly income. I don't mean you to get sick and collect the health benefits but what I'm trying to say is, if it happens that you're like me who cannot be able to go to work anymore due to pregnancy, you might as well check with your employer and see what is included in your employee benefits program. You might want to ask health coverage for medicines, monthly checkups, hospital rooms, blood routine, etc. Some will be fully covered while some will be discounted. It is much better if you know it ahead of time.
Review your spending and cut back expenses to cope with the baby costs.
Now that we are earning less than a household but have extra costs, something's got to give whether it is Friday night takeaway, new cell phone or TV. Both of you should agree not to buy anything above the set limit and don't keep any financial secrets ever. Set some ground rules and start discussing the challenges before you start worrying or arguing.
Understand the maternity, paternity state benefits, and allowances being given on the country you live in.
For example, I am located here in Canada, and lucky enough to be eligible for a total of 52 weeks of Employment Insurance (EI) maternity and paternity benefits. My son is also receiving Child Tax Benefits (CTB) and Universal Child Care Benefits (UCCB). Make sure you are aware of how to be eligible, how many premiums or working hours you should have, payment scheme, requirements to submit etc. Knowing how much you will get from these will help you as a couple to manage your finances well by sharing responsibilities like who's in charge of paying the monthly rent, weekly grocery, baby essentials like diaper, milk, wipes, etc.
Have a family budget planner.
Getting your head around with family budget isn't always easy that's why I always have a planner I just downloaded it. I am using Jorte from App Store and it is really a good application to get a handle on all your income and outgoings. You can download any app there are many apps out there that can help you in budgeting the only thing that I make sure is that I keep my receipts so everything is covered. Or also, if you have a husband like me who prepares a monthly ledger expenses and income report that would be more effective. 🙂
Spend your money on the things your baby need and think how you would use it, for how long, the importance, etc. Do not immediately go out and buy loads of stuff like nappies, creams, wipes and don't stockpile baby clothes as they grow out of them so quickly. Have your own list of your baby essentials before buying.
Buying second-hand can't be too bad.
You can save a lot of money by doing this. Just make sure that if you buy those baby items like a car seat, crib, stroller on second-hand you know their quality if it conforms according to safety requirements and you should only buy from the person you know and trust.
Make the most out of mom and baby freebies.
I signed up for all baby clubs like Similac, Nestle, and Enfamil, Pampers, Huggies and personally, I can attest that I received newborn baby items, milk, discount coupons, baby food and nappies which in a way have been helping me so much with my son's baby supplies. So don't fret out thinking it is not true because they actually give baby samples and freebies. Besides, there is no harm in doing it.
Look after social media sites that have baby and mom groups.
Yes, you heard me right, social media can help you save a lot of money. Search within your area if you have groups offering free baby and mom stuff. Believe me, others can be generous enough to help and give back to other parents. There are also pages and groups with buy and sell items for a low price or even trade and swap. Also, don't be afraid to ask family and friends if they have spare baby things. You will probably find that most people are happy to see it being used again.
Hang on to the boxes let's say if you have bought your baby registry, don't take the labels off so you can easily re-sell the item. And believe me; you will be surprised that you will find some of those items such as baby clothes that were not even used by your baby. You can post it in buy and sell groups I mentioned above or any credible classified site. Just make sure you won't really need them so you won't end up buying it again.
Planning ahead baby's future.
Make a careful and wise decision to invest part of your baby's savings in education plan, tax-free savings plan, to ensure his future covered. The early you start investing, the greater the returns which are imperative in making investments. It can also serve as a backup plan wherein some accounts like RESPs in Canada which the couple can use for mortgage (if ever the child doesn't want to pursue college – but I really hope that's NOT gonna happen!) or the child can use to buy books and other schools miscellaneous while he/she is studying.
Working versus stay at home parent.
Both parties must agree on this part. I suggest that you carefully review your finances and find out what your monthly budget will look like with only one income. On our part, we have both decided that I stay at home and take care of our baby since we consider that childcare costs here are expensive for low-wage income. But I have found better ways to make our ends meet through legit online jobs and AFFILIATE MARKETING. This way I enjoy being with my son at home, I can look after him while working in the convenience of our own home. On the other hand, if you both plan to go to work, prepare a new budget and include child care and related expenses.
Set some rules with your partner when doing the money $$$ talk.
It's all about talking and agreeing. Always remember the do's and don'ts. Let us start with the do's. Do set a time in talking about money like are there big expenses coming up or reviewing your bank accounts together, do respect and understand attitude of your partner towards money (may it be big spender or savers), and do view money as a means to an end to bring your family closer together and feel secured. Don'ts include; don't avoid talking or keeping secrets about money until it is too late, don't talk about money issues while angry and don't talk it all the time!
Remember to adjust your tax withholding to reflect a dependent child as this will give you a larger paycheck to help pay baby expenses.
Set yourselves CLEAR financial goals.
We are all better at doing things when we have some things to aim for like securing our family's future whether using spare cash for an emergency fund or putting money on a pension plan. Sit down with your partner, have a tete-a-tete, and plan for the things that are important to your family.
Do you have other ways of saving baby expenses? Feel free to add in the comments section below.