Most entrepreneurs do not have enough time of the day to accomplish various administrative tasks especially when it's repetitive and requires new skills. Some are comfortable doing it on their own while others will choose to outsource to look for help.
If you feel overwhelmed already, that's when a Virtual Assistant can come in to help you. That is why SMBJ Virtual Solutions is dedicated to helping small business owners who are in need of various services in general administration, social media marketing, data entry, research, e-commerce management, and bookkeeping.
When you work with me you will achieve the following:
you will have more time for yourself – work-life balance! that's my #1 goal for you!
you will be free from too much stress and help lessen your workload
you will not worry too much about how to accomplish extra tasks you need help with because I'm on it!
you can focus on other important business matters and therefore drive your business to growth and success!
Why work with me?
I'm an Upwork Top-Rated Freelancer with over 8 years of experience working in various administrative roles as a Virtual Assistant and a Certified QBO ProAdvisor.
To find out more about me read here.
Services For You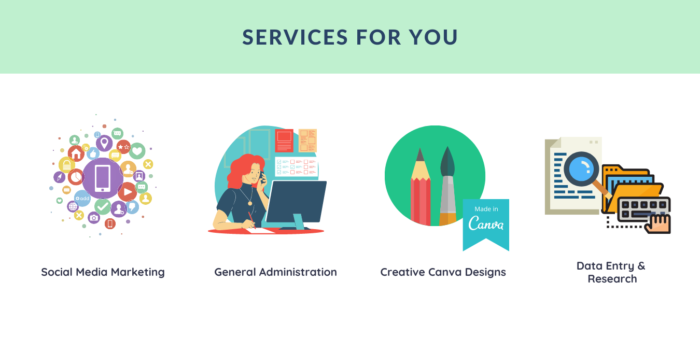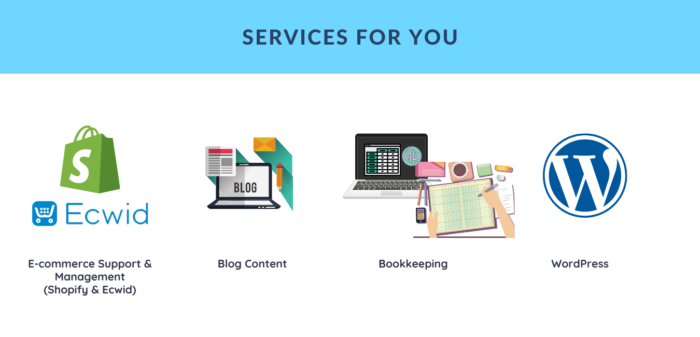 How It Works
I charge hourly for all services above. I also offer "Pay As You Go" perfect for those clients who prefer a fixed price projects. It is a NO COMMITMENT, PREPAID RATE, and ideal for those who aren't are sure how many hours they'll need just a short-term project or specific task that needs to be done.
Most of my clients are from Upwork that is why I put up my own Upwork agency, SMBJ Virtual Solutions. If you do not have an Upwork account, I can add you as my client in my Upwork agency through Direct Contracts (no Upwork account needed) OR I can bill you directly — you choose whichever works best for you!
Step 1 – Book a FREE Discovery Call with me to discuss your needs. We'll get to know each other, I'll be asking about your current processes and goals, and we'll talk about how working together can help you achieve your goals. This will also help you decide if we're a good fit!
Step 2 – I will send you a proposal that fits best for your business.
Step 3 – You review the proposal and send it back to me confirming the services you need for your business.
Step 4 – Once I receive the signed proposal, I will send you my client onboarding, policies, and procedures for VA services so that we are on the same page.
Confidentiality: SMBJ Virtual Administration adheres to a stringent confidentiality policy. Your personal information will not be shared with any other parties and a Confidentiality Agreement will be signed by both parties prior to entering into an agreement.
Step 5 – We can begin onboarding immediately and start the VA services.
So, let's set you up for success and…