First of all, I would like to tell you that I am not being paid by Upwork to do a review about them. My intention in writing this post is to share my personal experiences with this online working platform on how I started as a freelancer and why for me, Upwork is an online job workplace that's worth giving a try, especially for beginners.
I've found Upwork (which is formerly the oDesk) back when I was still in college. Coming from a third world country means most of us need to make our ends meet. Like most everyone else is doing back then, I study and at the same time work.
One of my passion is writing. And I write articles and content because I love sharing my ideas and that triggers even more when I became a mother. As a first-time mom, I learned it the hard way and through my blogs and my very own website, I know I can share a piece of advice from me to other parents based on my experiences and learning.
So, I stumbled upon the oDesk and register at once. Before, there weren't many reviews about the oDesk that can explain to me why is it worth a try. Based on my instincts, I registered as a freelancer all at once, applied and accepted to several jobs. And ever since then I have been part of oDesk until now that they change it into Upwork and I can certainly tell you why is worth so much of your time and talent.
Upwork Evolution
Before there are two pioneers that offer freelancers and contractors to do online work on their platform and these are the Elance and oDesk. In 2015, these two companies merged and now has become Upwork. Their mission,
To create economic and social value on a global scale by providing a trusted online workplace to connect, collaborate, and succeed.
truly live up to expectations. With their vision,
To connect businesses with great talent faster than ever before,
makes Upwork the premium platform for companies to hire and work with the most talented freelancers. Ever since then, Upwork has open opportunities to freelancers from various specializations and background to work online from the convenience of their own homes.
Upwork takes pride in providing online jobs and recruit freelancers for contractors. Up to this date, they now have 10M+ registered freelancers, $1B annually work done, 3M jobs posted annually and 4M+ registered clients.
Inside Upwork: How It Works?
You can register either as a freelancer or as a contractor/client. But, we are going to focus on being a freelancer in Upwork and know things around Upwork on how it works as an online working platform for freelancers.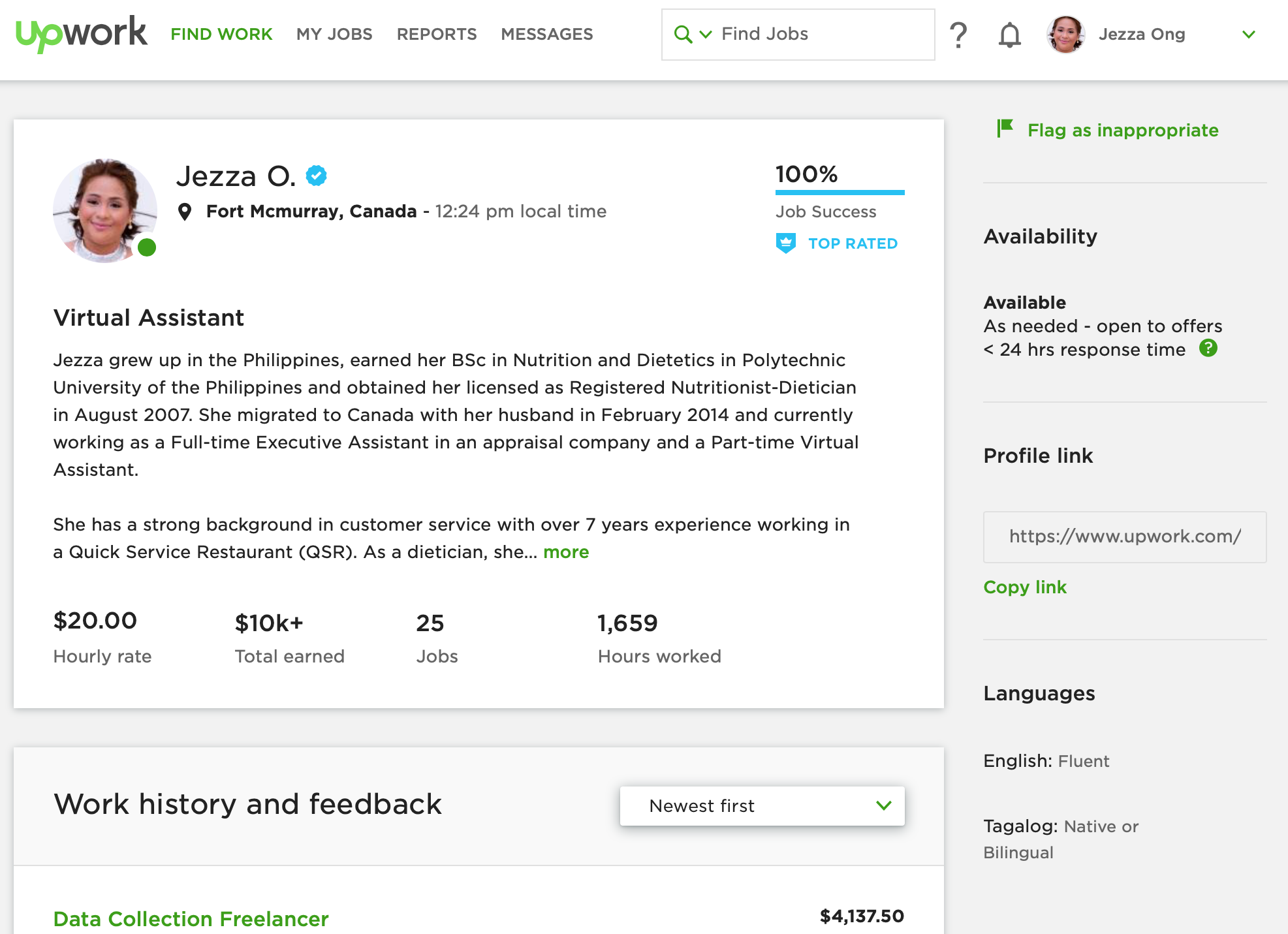 The overall layout is simple and easy to navigate. Once you register and complete your profile, it will lead you to the job feed. From there, you can start to look for the job you are interested based on your talent, capabilities, educational background and your knowledge of the job. You are then to make a proposal to the client stating your proposed hourly rate set by the client either by hourly or fixed pay rate. If the job is hourly paid, you are protected by the Upwork time tracker. Be sure to read the policies before accepting fixed price jobs and those jobs that are to be done outside of Upwork platform.
Even if Upwork has its own regulations and policies, it doesn't mean that it is free from SCAM. Remember, anyone can register into the platform and can make their profile. The good thing about the Upwork is you can be protected from those scammers and online job frauds by viewing the client history, feedback, and their reviews. So, my advice is to scrutinize carefully the job details and client history.
You can access all your proposals and invitations for the interview under the "Proposal" tab. Under the "Messages" tab is where you can communicate with your client. And the most important part is the "Reports" tab where you get to access your earnings.
Tips to become successful as Upwork Freelancer
Set-up your account. Complete your profile and include portfolio so clients can have a glimpse of your work. Your profile is like a resume. It is the first thing that the client will see so flaunt the best things about yourself. You are selling yourself to clients that will view your profile. It contains a brief description of yourself, working history, your skills and Upwork tests that you took. Make sure to pick out your best portfolio.
On setting up your hourly rate, if you just started and a newbie, you might want to set it in the lowest and that is $3.00/hour. I know this sounds ridiculous but there is no way that a client will hire and pay you for a higher price especially if they see that you have no working history, no feedback and zero working hours. I must say, I started like that and change it when I have established myself as a full-time freelancer.
If you wanted to increase your chance to be accepted to jobs, you must be equipped with knowledge on content writing, SEO, website development, social media management, email marketing etc. because these skills are required mostly by clients. I never knew any of these things not until I joined affiliate programs with learning platforms. Feel free to message me if you want to know more!
Update your work availability. You will get a higher chance to be invited for an interview if you are available for more than 30 hours a week. If you are just looking for a part-time job, I would advise to at least set your availability to 10-20 hours a week.
Apply only to jobs you are capable of working. Remember, Upwork has reviews and feedback after the job or contract is done so, it is wiser to invest yourself to a good rating and recommendable feedback coming from your client. That way, you will be able to work yourself as "Top-Rated" Freelancer and being that one can open more opportunities for you. Clients are going to be the one who will hunt you down because of your expertise and overall good working history.
When you have already established yourself the best thing to do is to take good care of your long-term clients. Because there is a higher possibility that they may need you again and rehire you. It is not only the client that will leave you feedback, but you will also leave them a rating and feedback after the contract is over. So, it is best to leave them a 5-star rating (that's if you had a good working relationship of course.)
Upwork platform is equipped with time tracker for those who work hourly paid jobs. And this time tracker consists of screenshots of your computer on what you are working on. You can access this under the Reports tab go over to the Time Sheet Details and it will lead you to your Work Diary. The Work Diary is a recording of the time and screenshots of your computer while you are working. Clearly, you have to respect the time and money spent by your clients because there is a way, they can check on you.
Protect yourself from any forms of scammers and online fraudsters. Remember, they exist everywhere and Upwork is an online community so it is open to anyone who registered though like I said, they have their policies there are still jobs that meant to get freelancers just to lead them to money laundering and product shipping. So, my advice is to stay away from those jobs and refrain from applying especially if the pay is too good to be true and the job details are restricted and stated vaguely.
I've learned all of these things since I started with Upwork in 2012. And believe me it's not all chocolates and rainbows, I had my share of bad experiences, I was scammed and had bad clients as well in the past that we have to go through disputes on payments.
For me, the good sides of being a freelancer are: 1) you can generate an extra income 2) work from home and 3) furthermore increase your network and connections in different parts of the world because you can have clients everywhere!
In conclusion…
Just like any other online opportunities and businesses, Upwork doesn't happen in an overnight success. You will work hard in building your credibility and showcasing your talent and skills as a freelancer but I'm telling you that all these things worth so much especially if you are staying at home and trying to look for an extra income.
If you are just starting out as a freelancer and looking to get started with Upwork, I wish you the best of luck!
Have you had any experience working with Upwork? How did it go?
Please share them in the comments below.