There are a pretty number of ways you can earn extra income online and in this post, I will be straightforward — my Top 3 PROVEN ways including the links, tried and tested myself. You can choose from different ways such as working in an online working platform as FREELANCER, joining  AFFILIATE programs, and by simply answering SURVEYS and earning rewards.
Find out how to get started on each of these three:
TOP 1: WORKING AS FREELANCER
Start by joining the top online working platform: UPWORK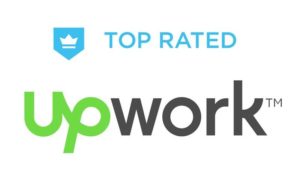 Anything you can do on a computer can be done through Upwork and all you need to get started is a computer, an Internet connection, and amazing skills.
At first, finding your niche is a tough one and starting out from 0 clientele can be bothersome. It is okay to feel upset at the beginning but drop your fear and do it anyway.
A good way also is to identify the strengths and skills you can offer to your clients. Start by listing down all the professional skills you have. For example, you completed an Administration Certificate and you know how MS Office Suite works, then you can apply for an admin or data entry positions. It's just a matter of finding what you're really good at. And there is no one out there who knows better than yourself.
Beware of the scams though, I have a separate post about that, you can read it from here.
Upwork charges contractors a 20%, 10%, or 5% service fee depending on the total amount billed with a client, along with the $0.15 charge per Connect when applying for jobs.
And they have this Top Rated Program that is designed to showcase freelancer's talent who consistently deliver at the top level of their field.
I think we've covered all the basics of Upwork pretty well. This time, let us discuss how to get started on Upwork.
Start by creating a FREELANCER ACCOUNT. It's definitely free to join Upwork. You just have to create your profile as a freelancer and offer your services.
If you can write well, you can offer blog writing. There are a lot of jobs in Upwork. They can be hourly or fixed-price from being a search engine evaluator, data entry collection, ad posting — and yes, these jobs are non-phone jobs meaning you can start working as long as you have a laptop and a reliable internet connection.
It really depends on what you can do. And at the beginning, you have to work hard. Hard enough until you establish yourself as the one you are trying to promote. For example, if you offer Virtual Assistant or Personal Assistant, you have to be knowledgeable in MS Office, research and other tasks that your client may give you.
You can also set and negotiate your own rates.
There are other online working platforms out there but they ask for memberships and fees. But I really recommend starting with Upwork. Upwork provides a user-friendly platform to help you chat and share files with your client, track your time, and get paid.
And the clients using the Upwork platform range from Fortune 500 companies to one-person startups.
For me, Upwork gives you the freedom to work anytime, from anywhere and you can quickly and easily grow your business with ongoing opportunities.
TOP #2: BECOME AN AFFILIATE
You can earn by promoting products or program. When someone clicks your referral links and ended up buying, you get a commission from that. That is what affiliate is all about as simple as that.
There are multiple ways to join an affiliate program. You can either use a product's in-house affiliate program such as Swagbucks or join using an affiliate marketplace such as Amazon Associates.
Here are my top recommended affiliate programs I joined in and I earned extra cash for a while now through referral.
AMAZON ASSOCIATES

Source: Authority Hacker
The image above describes how Amazon affiliate program works. You get your reader to your website, they seem to like your recommendations and then they click your Amazon referral link and they ended up buying and voila, you get a commission from that!
The largest online marketplace is none other than AMAZON.
You can join as an affiliate for FREE and you will get your unique referral code and it will be active for the first 180 days. If after 180 days you didn't get any commissions, it will become inactive and you can reapply after 6 months.
Having your own website is an advantage but there are other ways you can promote through social media channels such as your own social media accounts Facebook, Twitter, Instagram, etc.


During your spare time, you get to watch videos and surf the internet right? Why not devote at least some of your time in answering surveys, watching a 5-minute video, or even do your shopping online from Swagbucks.  
It is totally free to join, you can start by signing up here.
It is a website where you can earn rewards by doing activities you normally do, such as shopping, searching the web, watching videos, playing games, printing coupons, and taking surveys.
Every time you complete one of these activities, you can earn points called SB's. You can earn cash backs and redeem rewards. I just got a $10 PayPal gift card for 1,000 SB's. Besides, it is totally fun.
They also have a refer-and-earn program you and your referral get a 300 SB Bonus when your referral earns 300 SB within their first . If you also get to refer your friends to Swagbucks, you will get 10% of their earnings for life! That means if your friend earns 500 SB, you'll get 50 SB. Check out here.  
You can also share your referral link through Facebook, Twitter, Tumbler or you can send an email to invite them to signup and get started with Swagbucks.
TOP #3: ANSWER SURVEY PANEL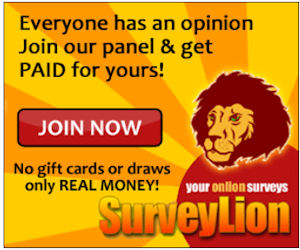 There is a lot of online survey panel but the only one I always get surveys and paid for is the SurveyLion Paid Survey Panel. My TOP Recommendation is SurveyLion.
This company conducts opinion surveys for big companies. That explains they always have available surveys based on your profile.
---
There you have it, folks!
I hope you find my top 3 ways helpful for those of you who want to earn extra income online.
Feel free to message me if you want to know more or drop a comment below.