With the birth of the digital age, the business world has become more competitive than ever. So business owners need every bit of help they could use. But, unfortunately, hiring full-time employees is not always possible, especially for small business owners. And part-time workers, unfortunately, aren't always up to the task. That's where a Virtual Assistant (VA) comes to save the day. If chosen well, this person can help you make it. Moreover, a good VA can help you make it big.

Read on, and you will find out what they do, the benefits of hiring a VA, and how to find the perfect virtual assistant.

What Is a Virtual Assistant?

A virtual assistant is a person ready to take on any challenge you agree upon hiring. Whether it's administrative work, marketing tasks, event management, or even personal errands.

VA's are typically remote workers that take on any "odd job" your business needs to stay efficient and progress. Some virtual assistants work with specific skills sets, so they might be just the person you lack in your team.

On the other hand, you might need a sort of "jack of all trades" VA, a versatile multitasker to deal with whatever minor issue comes a day in and out.

In either case, I have great news for you. Nowadays, there are many talents to choose from, and I will show you how to find the perfect virtual assistant.

What Do Virtual Assistants Do?

Virtual assistants can do all sorts of jobs to help you scale your business. Whether responding to emails or managing social media, it's all up to you and your business' needs.
Typically, VAs deal with many different tasks, including:

Administrative work
Social media management
Content writing
Report writing
Event management
Marketing
Personal tasks
Truth be told, the list could go on and on. This is excellent since many skillful people are out there to pick from.

How Do You Know You Need a Virtual Assistant?

Easy. Once you learn the benefits of using a VA to help you grow your business, you'll be ready to go on the quest to find one for yourself.

They Can Take the Load of Your Team's Back

As you probably already know, there is a well-spring of mundane tasks that can eat up a big chunk of time from you or your team. Hiring virtual assistants lets you focus on more demanding and more pressing tasks.

VAs Are Cost-Effective

Outsourced work is usually less costly, so business owners often use virtual assistants for small jobs.

Virtual Assistants Save Your Time

As we all know, time is money. So, no explanation is needed here, hopefully.
Where to Find a Virtual Assistant

There are a lot of unique and talented humans out there. However, not every person will be suitable for the job or your business needs. Also, some of them might not be up to the task.

That said, there are still many great sources online. The most apparent solution is finding your VA from reputed sources such as virtual assistant companies. Those online agencies for virtual assistants and can help you choose the perfect VA for your enterprise.

On the other hand, there are many job postings on freelance websites like Fiverr and Upwork, with thousands of postings daily. But that said, you need to prepare to sift through hundreds of replies on a posting and be ready for some unreliable applicants.

Still, thanks to the digital revolution, it's never been easier to build the perfect team for your business. Even if some of its members work remotely. You just need to follow a few steps to get there.

So, here goes.

A Step-By-Step Guide to Finding the Ideal Virtual Assistant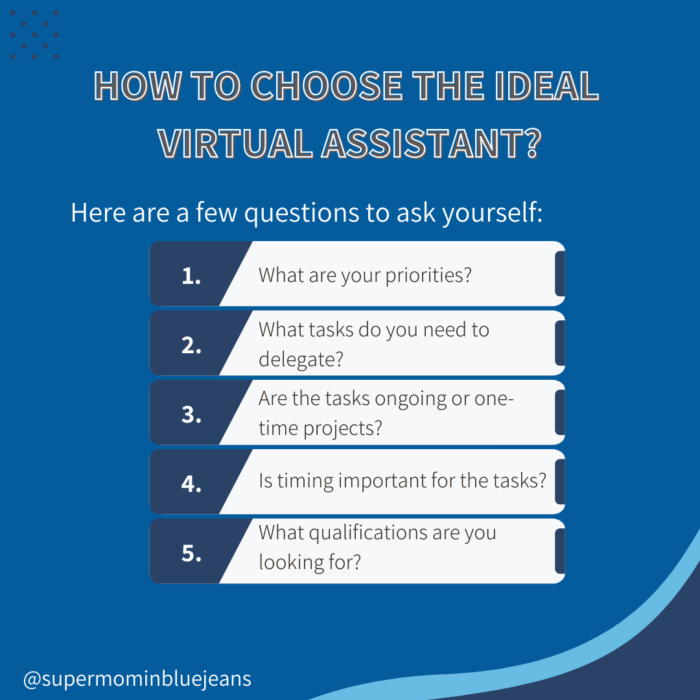 Step#1 – Decide on Your Business Plan

What are your priorities? You can't really find the perfect VA if you don't know your business's exact needs. So, the first step is to put up your business plan with the essential requirements your new virtual assistants can help you with.

Once you have a business plan, you will know what organizational needs will have to be addressed the most. Then, you will have a clearer image of what you need from your virtual assistant.

Step#2 – Know the Tasks You Need to Outsource
What tasks do you need to delegate? If administration eats up too much of your precious time, you already know what to look for. Or, suppose you need a content writer.

Hiring the right person from the vast pool of candidates can be challenging, but knowing what will help you be productive will shine a light on precisely the VA you need.

Step#3 – Figure Out What You Need Your VA to Do for You

Are the tasks ongoing or one-time projects? Decide on the tasks, priorities, and timeline for your virtual assistant. That way, you will be able to choose from the candidates with different skills to find one suitable to help you scale your business.

Step#4 – Be Crystal Clear on the VA Job Description

Is timing important for the tasks? This is one of the critical steps in finding the perfect virtual assistant. The key here is to be very clear about the job and tasks you need your VA to handle and be realistic about your own expectations.

Your job here is to be loud and clear on those. Do it by writing what you expect of your virtual assistant daily, weekly, or monthly.

Step #5- Decide on Your Ideal Virtual Assistant

What qualifications are you looking for? To dig deeper into this question, ask yourself do you need a native English speaker? Do you prefer someone with experience?
Once you decide on your ideal VA skills, you should also look for a person you will like working with. For example, some business owners need strong communicators, meticulous organizers, or other VA types.

Be clear on what you want and need, but also be aware of two things:

Whatever kind of business you lead, you want someone who will be a long-term fit.
No less important, you need someone who learns quickly and has a growth mindset.
Although it's not critical, hiring a virtual assistant with experience in your specific niche is wise. However, choose the right person with the right mindset, and you could be very positively surprised.

Step#6 – Conduct Interviews and Tests Projects

There is no better way to pick out the perfect virtual assistant than to assess their skills. So conducting appropriate tests and comprehensive interviews is a sure-fire way.

Coming up with some test projects depending on the candidate you need is an even better solution. By testing your potential VA, you will get valuable insight into how they process their tasks and what they can come up with.

Step#7 – Find Out Referrals and Testimonials

If you can get a recommendation, that's excellent. However, the simple truth is, client testimonials are the best way to gauge your potential virtual assistant skills, strengths and weaknesses, and personality.

Step#8 – Define Your Pricing

Typically, most virtual assistants are paid hourly or by subscription. Before defining your pricing structure, do market research to get a clearer idea of setting your own prices.

The best thing to do is opt for subscription-based pricing with several packages for various levels of services.

The Bottom Line

Virtual assistants can be a tremendous help to businesses, whether large or small. Those versatile people can help you manage many challenges on your path. So, finding the right one is critical to grow and scale your business.

Make sure you follow the guidelines listed above, and with a bit of effort and some luck, I'm positive you will find the perfect virtual assistant. Good luck!