The demand for Virtual Assistant services is continually growing as more and more people are starting up home businesses especially these crazy times we're living in.
The COVID-19 pandemic literally paved the way for some businesses to thrive via remote working.
Whether to supplement income or to replace 9-5 job, these new business entrepreneurs are finding themselves in two main groups:
1) those who have found some level of success with their home business and now need a Virtual Assistant to help them grow their business; and
2)those who want to start a home business but aren't quite sure how to do it successfully.
Both of these present an opportunity if you're interested in becoming a Virtual Assistant.
Working from home sounds like a good shot especially now that you have to stay home as much as possible. But, it might sound like it is easy, but it is ABSOLUTELY NOT.
Whatever your circumstances are, I hope these tips can give you some guidance on how to get started as a Virtual Assistant that I learned working for over 5 years now.
Working from home means you must also ready to take that giant leap of CHANGE and be brave enough to face all the RISKS. Like in my case, I left my day job and went Full-Time as VA. I still feel anxious about tomorrow especially these pandemic times. But like I said, be BRAVE, you will never know if you never tried.
But like every entrepreneur, you must have a business mindset and a very brave heart. It's all about passion and perseverance. Plus, these tips on how you can get started as a VA: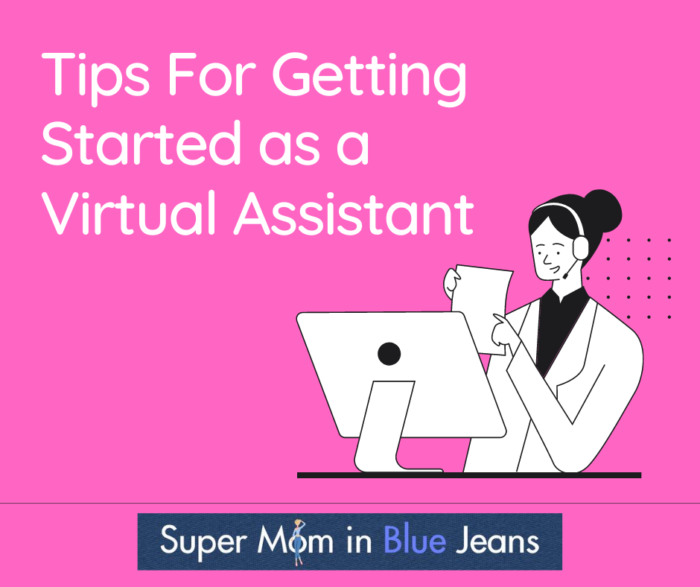 Analyze your strengths and interests. As a Virtual Assistant, you have the opportunity to specialize in a number of ways. You can specialize by catering to a specific industry such as affiliate marketers, a specific level of business like start-ups, or even a specific area of home business ownership such as marketing/real estate.
To decide how to specialize, consider your area of expertise and your personal strengths. If you have a lot of experience in marketing for example, then you could specialize by helping aspiring business owners plan their marketing plans and strategies for success.
Analyze your weaknesses. Take a quick look at the areas where you may be weak and educate yourself in those areas or decide how you're going to compensate for them. For example, if you're not skilled or dislike the financial aspect of business planning, then you could educate yourself on the matter or partner with someone who is strong in that area and outsource it to them.
Network and get clients. This is often the trickiest step; getting that first client. Networking with your target audience both online and off is a good way to reach your audience. Additionally, content marketing and presenting yourself as an expert will also help you reach your audience and convert them to clients.
You can also join VA organizations that have busy job boards for Virtual Assistants to get new clients. In my case, I found VA Networking which you might want to check it out especially if you really want to pursue a WFH venture as a VA.
Hang with like-minded. The easiest way to learn all about getting started as a Virtual Assistant is to join VA organizations and learn from the people who are already having success with their Virtual Assistant business. You are who you hang out with.
Tawnya Sutherland is the founder of VA Networking and she is amazing with over 20 years of expertise as a VA. I signed up for her VA Insiders membership which is an exclusive resource and training yearly membership club for Virtual Assistants. Be sure to check this out. I am now enjoying tons of resources, job boards (without spams and scams), training and support and being able to get to network with other VAs are for me, absolutely, priceless.
Provide value. Content in the form of reports, audio or video programs, webinars and online courses are all great ways to provide value to potential prospects. It's also a great way to build a lead list. Provide the content for free and then market your business consulting services to your subscribers in subsequent messages. The content helps position you as an expert and gives you access to qualified prospects.
If you are like me with kids around the house, you might want to work with family-oriented clients who will definitely understand your situation. The most important thing is to continue to provide VALUE.
There may come a time when the client will no longer need your services. However, that doesn't mean you cannot continue to provide value to them. Content, like a weekly newsletter, will continue to provide information to your past clients and they'll be more likely to refer you to a friend or associate because you're in continuous contact with them.
Virtual Assistants that offer value and specialize will always be in demand. Take time to plan your business and you'll achieve the success you desire.
Create your business plan. In this step, you'll outline who your target market is, how you're going to market your Virtual Assistant business, what services and/or products you're offering and how you're going to manage your business. Set your prices/fees and create your invoicing and fulfillment systems. You'll also want to include goals and the necessary steps to achieve your business goals. Ideally, you'll also outline and create your business website in this step or hire someone to create it. To help you with this, I am giving you a copy of my Business Plan Template you can download for free! Go grab it here and start planning your business!
To be successful in any business you need to have a BLUEPRINT or game plan in place to implement and make good use of your time. Once you start your business you will realize that you can't bill out '40 hours' of billing time per week like you expected you would.
That's the reason why you don't want to charge $10/hr for any VA services because you have to consider other business parameters that will start to arise like administration tasks (bookkeeping, self-employed taxes etc.), marketing and education (keeping on top of your skills and technology).
So on average expect to allot the following percentages of time to these items no matter how many hours you work per month.
20% Admin Work (Bookkeeping, Onboardings, etc.)
30% Marketing/Education/Training
50% Billing Clients
I tried as much as possible to take some time writing here and updating my blog because this also serves as my portfolio to my clients.
Word of mouth marketing. Once you have the ball rolling and your first few clients, embrace a referral or affiliate business model to drive more business in your direction. A referral model would mean that you'd provide some sort of credit or incentive if clients referred new clients to you.
I really hope I have shared some golden nuggets to inspire and help you started as a Virtual Assistant.
If you feel overwhelmed and not sure where to start, be sure to check this Virtual Assistant Start-Up Checklist and get access to Tawnya Sutherland's very own Virtual Assistant Checklist to help you on the journey of getting your business up and running easily and successfully.
Good luck and I wish you all the best!